Macey sits on a pedestal of authenticity and delight.
Her best day is today. She reminds us to press on — to conquer — and she leaves a trail of magic in her wake.
We are sometimes haunted by what was the scariest part of Macey's cancer journey. In 2014, Macey was first diagnosed with a rare genetic chromosome disorder and then was diagnosed with cancer (acute lymphoblastic leukemia). In 2016, we watched Macey fight for her life after an infection overcame her weak body, and life support was her only option. She was only three years old.
It still hurts to go back to November 2016.
When we do, we picture angels, many of whom were disguised as medical professionals – doctors, PICU intensivists, surgeons, nurses, transport team specialists, and more. We remember our daughter, who was doing so well with her cancer treatment, unexpectedly contracting an infection and then deteriorating at a shocking rate.
The next few paragraphs intend to give you a small, raw sense of what it was like in November 2016 (and are heavier — meant to allow you to put yourself in that moment because, "feelings are for feeling," Glennon Doyle).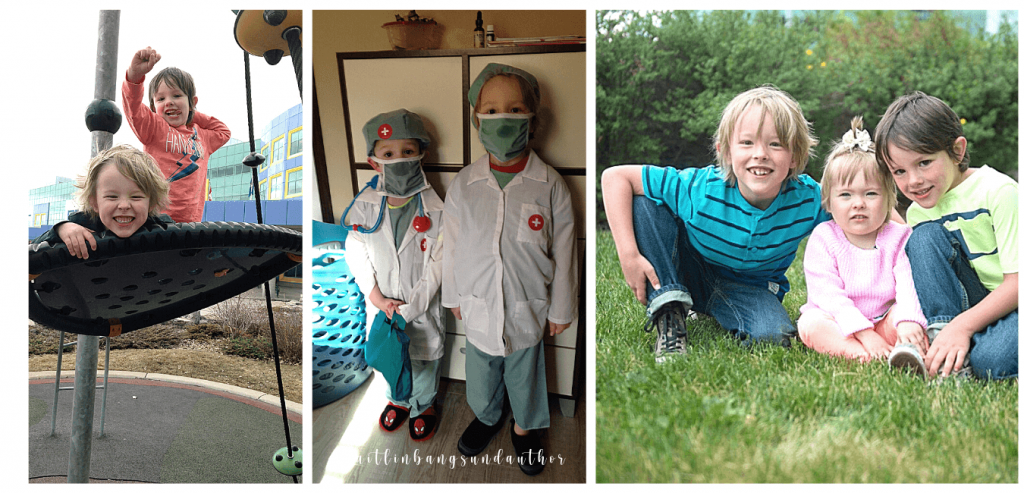 Imagine a plane airlifting your three-year-old daughter to a different city, being kept alive by machinery and highly-trained people, knowing that she has little chance of survival.
You cannot wish her well. You cannot cure her. This should not happen to your child.
She is in septic shock and on life support after losing lung and heart capacity from a bacterial infection that hit out of nowhere and is currently in the maintenance phase of chemotherapy for childhood cancer.
You have been awake for over 24 hours, waiting as doctors and health professionals try to find a way to help her breathe.
Life support (ECMO) was the final choice to make, and 30 minutes after you were told this (that you needed to make a decision), the surgical team mobilizes waiting for the go-ahead. The process takes hours.
Her neck ends up with two metal cannulas surgically implanted that extend out into tubing and connect her to the machine taking her blood, reoxygenating it, and putting it back in her little body.
And, the rest of her body has tubes and wires everywhere.
You cannot hold her. There is almost nowhere even to put your hand on her body. She has a ventilator down her throat and lies helpless and sedated, ready for transport.
You will now drive in the dark, exhausted, from Calgary to Edmonton (3 hours) because there is no room for you on the plane. She will fly alone with the medical team. You say goodbye to your daughter and watch her two older brothers say goodbye to her 'just in case.'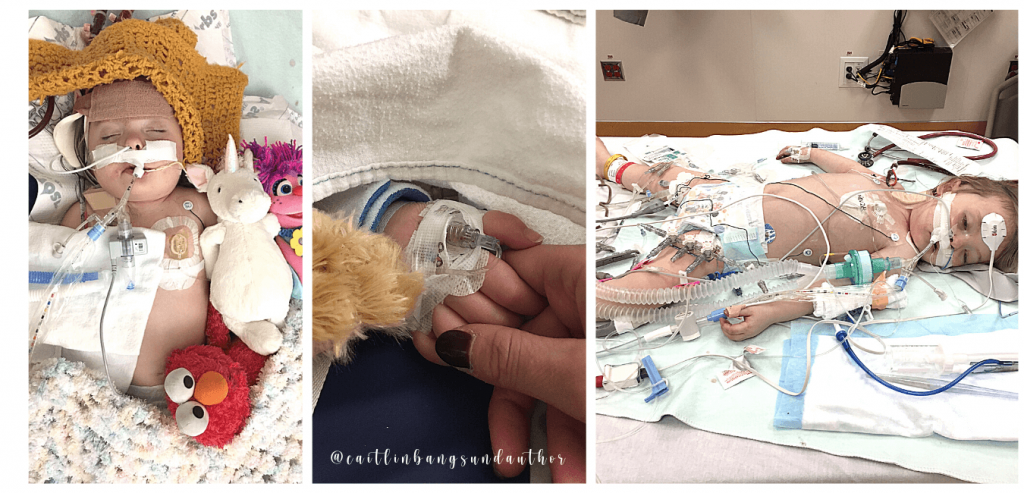 You've had a few "worst days of your life" — this one trumps them all.
Cancer seemed like the hardest thing your child would "do" until this day.
You follow your daughter to an unfamiliar children's hospital in Edmonton after years of cancer treatment in Calgary. You have a rapport with the Calgary physicians and nurses, and you know the hospital protocols. You want your oncology doctor, but you also know this fight will take a bigger team and more specific care.
You've been the central support and caregiver – you are a 'momcologist' but know nothing about what is happening now, on this day.
Your daughter has been fighting for years already. She has already proven herself to be a conquerer. She is brave, resilient, fierce, and casts light around her despite the pain she endures.
How should more courage and fight be expected from this little girl?
This time was the actual peak of our trauma landscape.
The unpredictability and disruptiveness of life have been lessons in disguise for our family.
In the very early cancer days, we learned that our plans were not our own. We were not in control, and the strength we needed to brave the journey would come in small doses by a force much higher than any power we could muster on our own.
We learned to live in the moment in a way that only something like this can teach.
Joy could be hidden in heartache, and hope could be hidden in the darkness. ~CB
The support of family and friends around us bolstered us and helped us crawl through the unknown life-territory that we had been forced to travel.
Before this horrific moment in time, my 'give-chemo' alarm would ring each night at 9 pm. Not every mom has an alarm to remind them to administer oral chemo medicine to their daughter who is three years old. It had become so routine and I had gone so quickly from feeling lost and new to the cancer journey to feeling like the expert who should comfort other families who had just received horrific news.
In the fall of 2016, we had settled into this life of hyper-vigilance to fevers, Lysol-wiping (flash forward to the current COVID Lysol-wiping madness), blood count checks, doctor visits, and daily meds. We were so close to the end of 2.5 years of treatment for Macey's leukemia.
We could taste a time when that alarm would stop ringing, and we could just let her sleep. There was light on the horizon.
In 2015, I wrote — "We are living mini-miracle by mini-miracle." It was true, but what we could never have predicted was that day, the world stopped along with Macey's ability to breathe on her own.
"Even in moments where we faced the real possibility that Macey's time on earth was done, we knew that she had gifted many people with joy and a connection to something beyond her years." ~CB
We had to pivot more than we had ever had to before.
You don't come through as the same person you started. Things change — perspective, priorities, friendships, and more.
I wrote in my blog in July 2016 ~ "Sometimes the joy gets overshadowed, but writing this snapshot today, celebrating Macey, reminds me of all of the good — of how far Macey has come."
As I write today and revisit the mountains Macey has climbed, I am reminded of the same thing.
Every day my child, Macey, reminds me to search for happy and to believe in hope.
My daughter is fierce, authentic, and I am amazed by how far she has come. I want to be like her.
When we brought Macey home on Jan 9, 2017, she was on oxygen and so weak she could not even sit unassisted. But we were happy. She was alive, and there was no longer reason to think she would lose the fight.
On January 19, 2017, with oxygen tubing trailing behind her we have a video and Macey's brothers are saying, "she can crawl again!" – that was a fantastic milestone. She was taking some assisted steps toward the end of January!
Macey had only learned how to walk one year prior, and now she had to learn to do it again. This was the third time we got to experience her learning to walk.
I will never forget her dad's ability to find the "glitter in the muck" when his perspective was to notice how lucky we were to experience that milestone not once, but three times!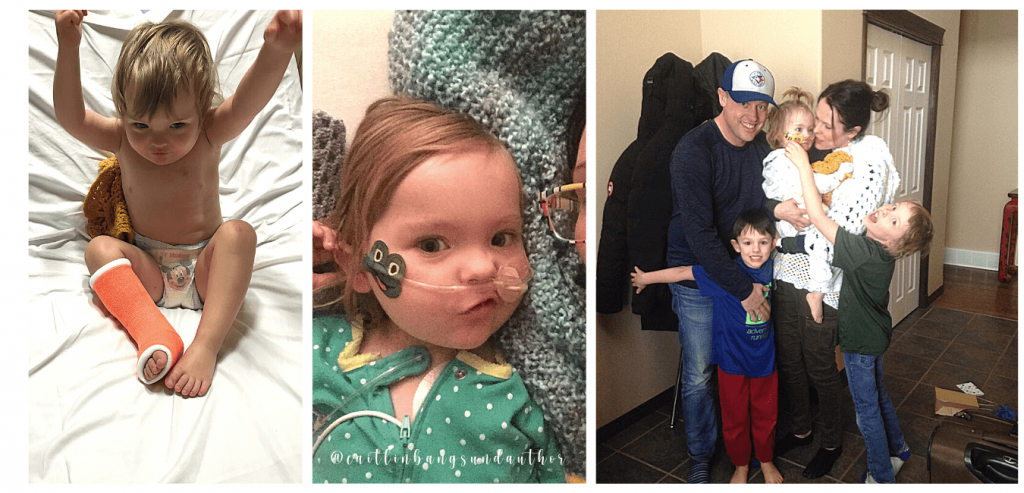 The decision was made to end her leukemia treatment and not restart treatment or chemo.
We celebrated that decision officially on March 6, 2017, at the oncology clinic surrounded by family, friends, and our Alberta Children's Hospital family who had watched and participated in Macey's journey.
Macey had her ivad (or port) removed on June 26, 2017. On June 9, we had actually gone in for this surgery, spent 11 hours with Macey fasted and hungry and waiting, to end up bumped by an emergency case.
The only thing I could think was that we had been the emergency before and there is a family who is scared.
We can wait.
Macey just wanted chocolate milk and to go to Hawaii anyway! One of those I could give her immediately!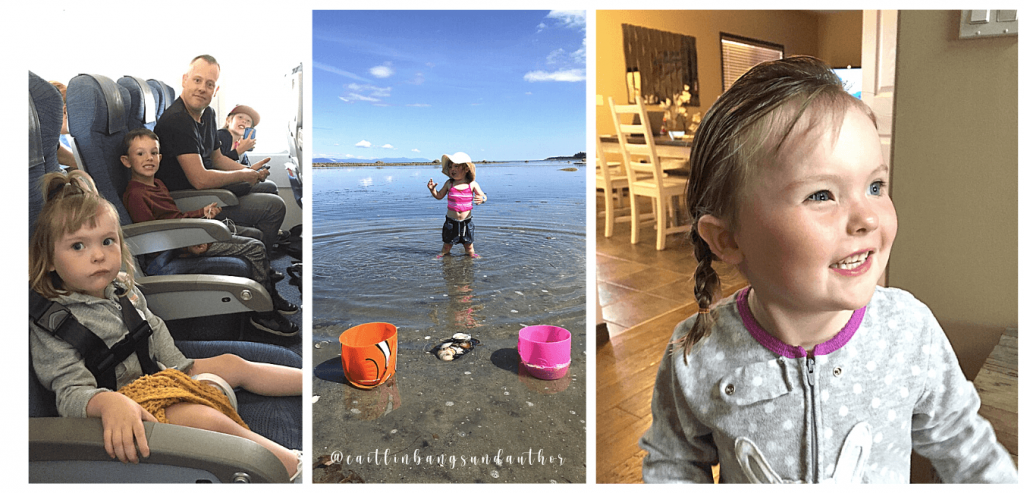 Her smile is the smile of a girl
who was finally free to run and play and be a fashionista with a heart of gold.
Macey seems to see the hearts of people. We have always thought that. But what we didn't realize is that she would expand our hearts and the hearts of so many others.
"The life of a small child demonstrates to so many what strength looks like and reminds us what it means to celebrate the small joys in life — like her brothers, long lazy walks, and Lays chips." ~CB
I've now had the opportunity to watch my daughter splash in the ocean, ride on a plane, run laps around our home, and jump on the trampoline. I've watched her ride a Ferris wheel, sing a mash-up of everything from Jesus Loves Me to Alice Cooper's School's Out for Summer, and go to kindergarten and grade 1.
I've watched her inherit the largest tribe of imaginary friends and wake up with the ability to breathe and smile and squeal her day away.
Be like Macey, and make today the best day ever.
For a free poster to remind you to make today the best day ever, click here.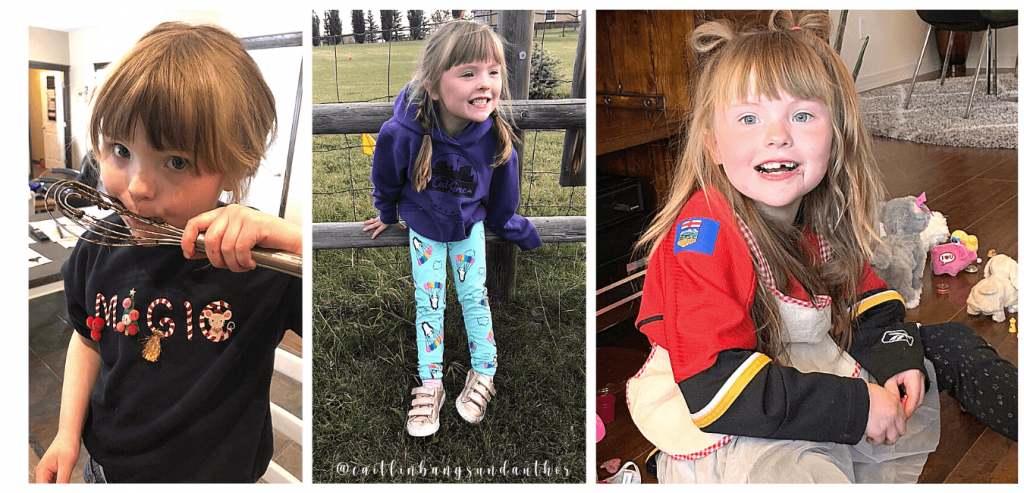 Press on friends,
Cait
P.S. This is part 2 of 3 ~Macey's Story, Our Story~ You can find parts 1 and 3 on The Blog page, caitlinbangsund.com
P.P.S.
If you'd like to hear my voice talk all things hope and courage, have a listen to the F*It Podcast with Amy Ledin. I recap the trials and triumph here: